Tech Tree
Jump to navigation
Jump to search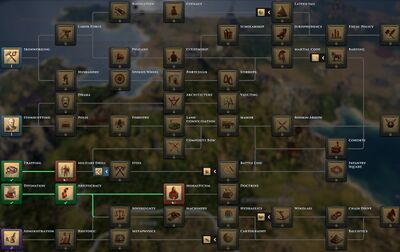 Techs (short for "technologies") are empire upgrades that cost science and provide various benefits and make additional techs and some laws and events available.
All available techs are placed in a draw pile. 4 techs (5 if you built the Oracle) will be randomly selected and presented to the player to choose from. 1 can be selected, the others will be placed into the discard pile (boosts or free units will be discarded). If your leader is a scholar you can do a 1-time redraw of available techs from the draw pile (this will not cause boosts or free unit cards to be discarded).
After a tech is completed, any new available techs are added to the draw pile, and a new set of techs will be selected from the draw pile for the player to choose from. Techs will be moved from the discard pile to the draw pile when the draw pile is empty.
Tier 1 (100 Science)
[
edit
]
Tier 2 (150 Science)
[
edit
]
Tier 3 (250 Science)
[
edit
]
Tier 4 (400 Science)
[
edit
]
Tier 5 (600 Science)
[
edit
]
Tier 6 (1000 Science)
[
edit
]
Happiness Boost

(All Cities) - +1 Happiness Level
Tier 7 (1500 Science)
[
edit
]
Tier 8 (2000 Science)
[
edit
]
All Tier 8 technologies can be researched multiple times